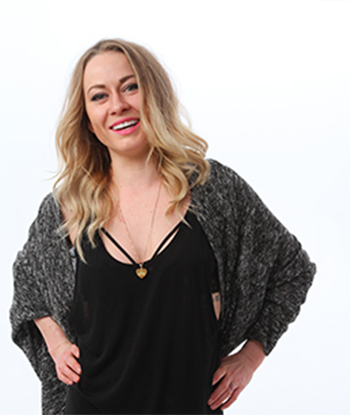 Currently acting as BRANDLIVE'S "office octopus", Janice brings to BRANDLIVE 15 years of customer service experience in a vast array of industries, from hospitality, to construction, to health and wellness. At BRANDLIVE, Janice wears many hats, her versatility stems from the many roles she's taken on over the years: Office Administrator, Bartender, Accounts Receivables Clerk, Bookkeeping Assistant, Office Manager, Sales Representative, Fitness Consultant: you name it, she's done it!
She believes success is curated by a dedication to wholesome connections, an ability to roll with the punches, and a sincere eagerness to help those around her. Beyond anything, she understands the value of relationships: people are her jam. She enthusiastically supports all of the company's departments: from bookkeeping, to operations, to front-line production, she isn't afraid to roll up her sleeves and get dirty. As an environmental enthusiast, she recently began implementing operational changes internally to minimize the company's eco-footprint and is now a key player in BRANDLIVE's Social Purpose Committee, striving towards a Zero-Waste workplace.
Beyond environmental initiatives, Janice is an outdoor enthusiast. You can often find her snowboarding, surfing in Tofino, yoga on the beach, hiking or trail running the mountains, camping throughout BC …. She is also passionate about fitness, culinary arts, music, community initiatives, and arts & culture which has brought a smooth transition in adding her to the BRANDLIVE team!