VANCOUVER TO KICK-OFF 2015 WITH FREE NEW YEAR'S EVE COMMUNITY CELEBRATION IN DOWNTOWN
For the first time in more than a decade, Vancouver will reinstate a yearly tradition by ringing in the New Year with a fully-inclusive and family-friendly countdown celebration to midnight. Held in downtown Vancouver, NYE VAN will be a free, public event next year on December 31, 2014 that will include live music, multicultural programming and entertainment, and fireworks.
Fundraising, planning and execution efforts for the annual celebration will be coordinated by the newly established Vancouver New Year's Eve Celebration Society. This not-for-profit community initiative was founded by local news, lifestyle and entertainment website Vancity Buzz and has since grown to include event production agency brand.LIVE, the Downtown Vancouver Business Improvement Association, PCI Developments Corp., Port Metro Vancouver, Vancouver Convention Centre and Tourism Vancouver. The Society will be working closely with the City of Vancouver in the planning of the event.
Karm Sumal and Kenneth Chan, editors at Vancity Buzz and co-founders of the NYE Society, share "There has been a void in major events and activities in the city during the winter season. We want NYE VAN to reinvigorate the city during the winter months, and are thrilled that key partners necessary for the event have come forward to help make this a reality."
"There are already thousands of people in the streets every New Year's Eve and they are all looking for a centralized public area to go," said Sumal and Chan.
"It's exciting to see community partners stepping up to bring a New Year's celebration back to Vancouver," said Mayor Gregor Robertson. "Vancouver is known worldwide for its major festivals and events throughout the year, but there is a definite need for a significant family-friendly New Year's Eve celebration. The City will be working closely with the organizers on planning for the celebration and I look forward to it taking shape as we move toward New Year's Eve 2015."
With New Year's Eve 2014 fast approaching, NYE VAN is launching to let people know that plans are in the works for a celebration next year, and to encourage community groups and local businesses to step forward to partner on NYE VAN 2015.
NYE VAN 2015 is built on the foundations of successful major civic event planning strategies and the continuing inspiration provided by the 2010 Winter Games and annual events such as the Celebration of Light and Canada Day at Canada Place.
As an annual celebration, Vancouver's New Year party will bring the same kind of fun, free, energetic public celebration seen in cities across Canada and around the world.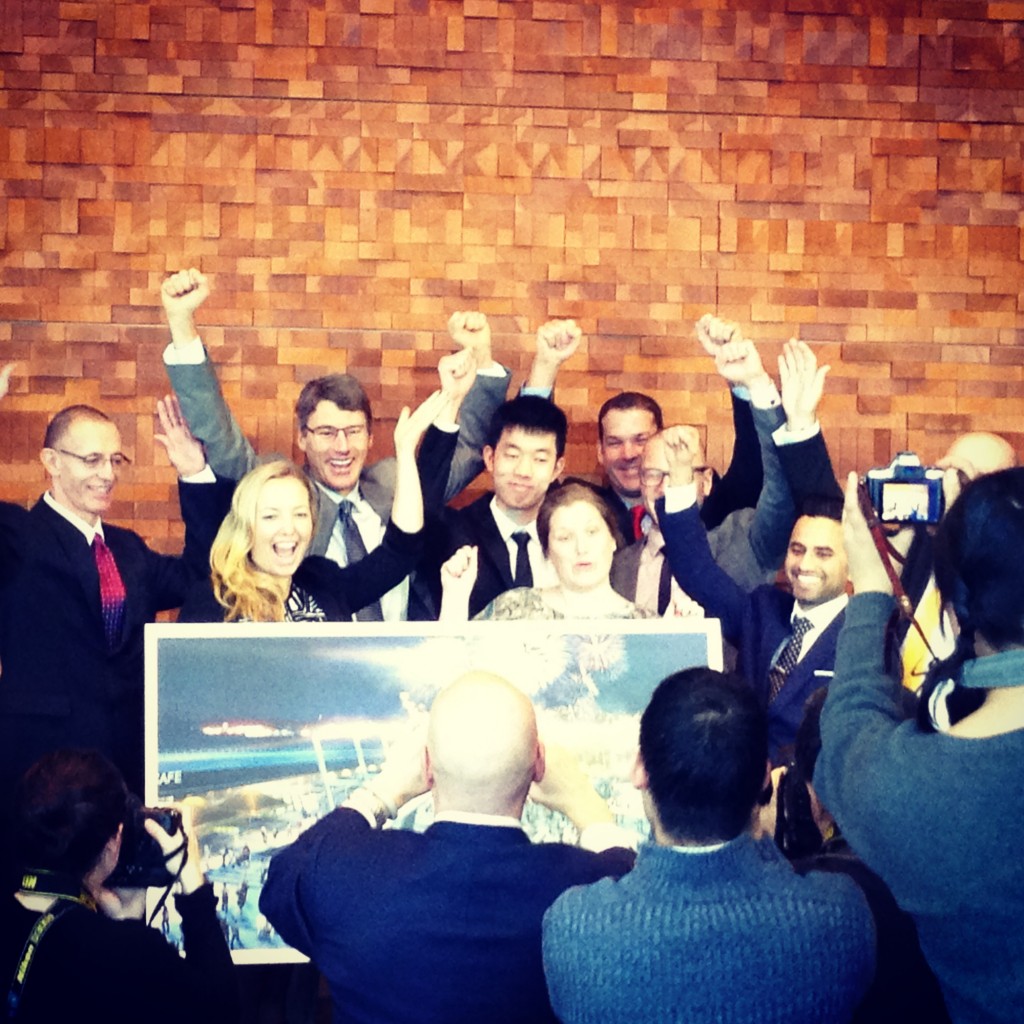 Highlights of the inaugural NYE VAN celebration in downtown will include:
Festival animation beginning at 6 p.m. along Burrard Landing at Vancouver Convention Centre West and Canada Place Way such as food carts, exhibits, roaming attractions and entertainment, and children's activities
The lighting of the Olympic Cauldron on Jack Poole Plaza at the Vancouver Convention Centre
'Early Eve' Countdown Celebration with live entertainment at Jack Poole Plaza designed for families with young children
Midnight Countdown Celebration with live entertainment at Jack Poole Plaza, culminating with a major high-aerial fireworks display launched from a barge in Coal Harbour
Revelers are expected to partake in celebrations that will promote community identity and foster a greater feeling of belonging within Vancouver. It will drive positive economic impact within the local economy and create new tourism marketing opportunities for the region. It also builds upon Jack Poole Plaza's usage as an active, year-round community hub.
"The downtown business community is excited to be a founding partner in this new free, public event," says Charles Gauthier, President & CEO of the Downtown Vancouver Business Improvement Association. "It will be a great complement to the many private New Year's Eve parties already taking place downtown."
Paul Sontz, Manager of Cultural Tourism for Tourism Vancouver adds, "Every year, we have countless inquires from visitors asking for information on family friendly New Year's countdown celebrations in Vancouver. We're excited to be able to fulfill this request with an inclusive celebration that encourages visitors and locals to ring in the New Year together."
Next Steps to NYE VAN 2015 – Project Timeline:
January 2014 – Operational Planning Begins
January 2014 to April 2014 – Exploration of Sponsorship and Partnership Opportunities
October 2014 – Announcement of Talent and Entertainment; Marketing Initiatives and Tourism Package Launch
December 31, 2014 – Inaugural New Year's Eve Celebration Event
For more information and updates, please visit www.nyevan.com.
Twitter: @NYEVancouver / #NYEVAN
Facebook: www.facebook.com/NYEVancouver
Instagram: http://www.instagram.com/NYEVancouver